GYNELLA® Girl Intimate Wash is an intimate hygiene gel specially developed for girls from the age of 2 to the first menstrual cycle. This is a period of age when the ovaries do not produce the female hormone (oestrogen).
The composition has a specially adjusted pH (neutral pH) corresponding to the non-hormonal age of girls.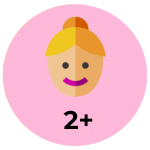 Use of GYNELLA® Girl Intimate Gel:
For sensitive skin
In case of irritation of intimate parts
For calming down irritated skin
Dermatologically tested.
BISABOLOL 
Bisabolol is a major component of the etheric oil of the chamomile. It helps to absorbs other substances into the skin. Softens, smoothes, soothes and reduces skin´s sensitivity.
SALVIA OFFICINALIS LEAF EXTRACT ACID
The effect of sage is very important, with antiseptic, antivirals and anti-inflammatory activity. In the cosmetics, its astringent and disinfecting properties are used.
ALLANTOIN
Protects, sooth and restore skin. It supports the growth of new skin cells, regenerates skin tissue and relieves irritation.